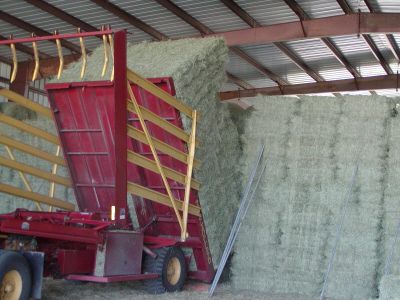 Haystack Farms produces three types of premium hay: Coastal Bermuda, & perennial peanut. (See descriptions below.)
Our hay is available in square bales and round rolls.
Our fields are irrigated, fertilized, & weed-free.
Tifton85 Stacked in the Barn - however, we now bundle hay in bundles of 21 bales (pic not shown)

Delivery & Pick Up Options:
* FOB full semi box delivery ((customer unloads while driver waits - 3 hour max) (35 bundles in 53')

* Drop Trailers (high volume feed stores only)
* 1/2 semi load (357 bales in 17 bundles; we unload near your barn, customer stacks)
* Ocean container loaded at farm (45' high cube - 27 bundles - 567 bales)

* Pickup at barn: wholesale full & half loads are loaded during the weekdays 8a-5p. Hours for retail customers are: Saturdays 9a-12n. We are a working farm & not a feed store; an advanced call or text (386-867-5566) will eliminate wait time on your end.
Call 855-326-8873, text/call 386-867-5566 or email for current pricing.

Haystack Farms is committed to excellence in producing premium, weed-free hay for our customers. We sell our hay - we are not "middle-men" salesmen; we grow, cut, bale, store, market, sell, & truck our own product. This sets us apart from all other hay producers in our area, giving our customers consistent quality at the best prices.

________________________________________________________________________________
Descriptions of Hay Varieties
Coastal, Jiggs, & Tifton85 Bermudagrasses:
* Perennial grass that is frequently used for hay fields or grazing pasture in the southern portions of the United States.
* The plants grow rapidly when temperatures are warm and moisture is abundant.
* Adapted to a variety of soils & provide as much or more grazing than any other summer pasture grasses.
* Bermudagrasses are the easiest of all the grasses to manage, responding well to fertilizer & weed control programs.
* These are hybrid bermudagrasses & do not produce viable seed. Planted vegetatively by rhizomes.
* Tifton has the widest leaf of the three, therefore the highest in protein, then Jiggs, then Coastal. If horses have trouble with coastal, vets will usually suggest moving the animals over to Jiggs or Tifton.

Perennial Peanut:
* High-quality, persistent, tropical forage.
* Can be grazed or fed of horses, dairy & beef cattle, hogs, goats, sheep, deer & rabbits.
* Ideal substitute for imported alfalfa.
* Florigraze & Arbrook varieties available.
* Has high yield, quality, persistence, disease resistance, and drought tolerance.
* Well-adapted to dry, sandy soils.
* Planted using rhizomes, or underground stems, dug from our well-established nursery.
* Does not require nitrogen fertilizer, and once established, is low-maintenance. No pesticides for insects or diseases.
* Hay yields in north FL range from 3-5 tons per year for well-established stands.
* Quality & uses are so similar to that of alfalfa that perennial peanut has been coined "Florida's alfalfa".
* Herbicides will be needed during establishment & occasionally post establishment.
* Environmentally sound, low energy consuming crop.